Rooftop tents for cars and trucks from Dog House Tents will help you enjoy the outdoors in comfort and style. You can plan your next adventure with confidence with an elevated tent that rests on a frame atop your vehicle. Haul gear, cook, and wash up with our overland trailer, while you pitch your tent aboveground for a restful sleep.
Choose from a variety of sizes and styles to fit your vehicle and your camping style. Our rooftop tents come in soft top and hard shell varieties. Almost any vehicle can accommodate one of our rooftop tents—cars or trucks become campers with the addition of a rooftop tent. We offer accessories you may need to secure your tent or rack. And for day trips, try an awning that provides a shady place to sit as you enjoy the vistas of the great outdoors.
Adjustable Truck Rack
Our Adjustable Truck Rack with LED Lights That Won't Break the Bank!
Adjustable Truck Rack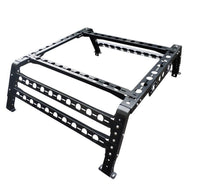 Free your mind, chase the adventure!
Free your mind, chase the adventure!
Testimonials
Super happy with our new two person tent! Lee was super helpful as we were putting it on our truck as we picked it up on our way to a big camping trip. Highly recommend!

Meghan H
We purchased the camo soft tent and were amazed how awesome is it! There's lots of zippers and opening for good air flow and accessibility. The quality is right up there with some of the best tents on the market.
Customer service is also very good! I would highly recommend lee at Kitt Distributors in Chilliwack for all your camping needs!

Dan S